Who are we?
GoPhygital is a venture driven by an experienced team who have cut their teeth on design, technology and everything around it. Incubated by WITS Interactive, a Mumbai based DesignTech agency, we create exciting solutions that go beyond the 'digital only' domain and enhance physical products with digital engagement.
What we Do?
GoPhygital works with businesses across various segments like education, healthcare, retail, lifestyle etc to help them enhance their product offering and user engagement by implementing phygital solutions incorporated with a strong element of gamification. At GoPhygital, we don't just focus on Internet of Things (IoT) … we go the extra mile to focus on Internet of EveryThing ☺
"Design is not just what it looks like and feels like. Design is how it works".
With this quote by Steve Jobs as one of our guiding path, we aspire to take our design philosophy to the next level; the experiential level. Our design and strategy team is a mix of artists and experts in behavioural science who, once they get to the core of what your business objectives are, apply the principles of design thinking to the fundamentals of human psychology to create Phygital strategies that work.
And if that sounds like just a bunch of jargon thrown together to sound cool, why don't you send us an email on iwantto@gophygital.io and we can have a chat to understand what it would take to help you Go Phygital ☺
OUR WORK
Ben & Bella Treasure Box
A fun way to learn English using Augmented Reality
One of the first projects that GoPhygital is rolling out is an exciting product in the early learning space targeted at children below 7 years; the Ben & Bella Treasure Box app.
Ben & Bella is a popular IP in the early education space having a range of multimedia products developed for children up to 7 years old to learn English and expand their learning skills.
It is based on the pedagogical principle of immersive learning, in which children acquire new words by simultaneously hearing and "seeing" them and understanding their meaning through context.
A wide range of Ben & Bella Physical products
All Ben & Bella products are connected to one of six universal themes: At the Circus, Going Places, At the Zoo, A Special Day, Going Shopping and On the Farm. These themes are equally attractive to both boys and girls.
Using stories, songs and dances, exercises and games through storybooks, DVDs, sticker & activity books and flashcard, Ben & Bella products immerse children in a complete English-language environment.
Ben & Bella Goes Phygital
The Ben & Bella Treasure Box is an Augmented Reality based app which aims to enhance the learning experience of the range of physical products and help the always connected, digital generation of today, Generation Z, to learn better.
Children can use the app to launch a treasure hunt across the various story books, flashcards, activity books etc to reveal hidden goodies like songs, videos and audio based lessons which help them learn how to phonetically pronounce the words in a correct manner. The app, using Augmented Reality, brings alive the static content and makes learning fun.
about us
About WITS Interactive
WITS Interactive, the mother-ship of GoPhygital, is a trans-media creative agency focused on delivering end to end solutions across digital (mobile and web), film, print and on-ground. With a team of 80 people across 3 offices in Mumbai, Munich and London; WITS Interactive has worked with some of the leading brands across businesses from media and entertainment, pharma and healthcare, hospitality etc globally.
Founded in 2003, WITS Interactive has a solid track record of delivering on their promise of creating digital strategies that work for their partners effectively. Visit the WITS Interactive website to know more about how we can help you beyond your Phygital strategies.
WITS Interactive is a DesignTech Agency working across digital, print, film and offline media to provide integrated communication strategies to its clientele. The WITS Interactive Group through its divisions; WITS Interactive Technology (Mobile App & Web Development Services), Black Pepper (Exhibitions, Events & Retail Design), terrawits (Spatial & Environmental Design Solutions), GoPhygital (Experiential Solutions through AR, VR, MR) and CreateID8 (Strategic Brand Design Agency), works across the entire spectrum of brand communications right from brand identity development to brand engagement and evolution.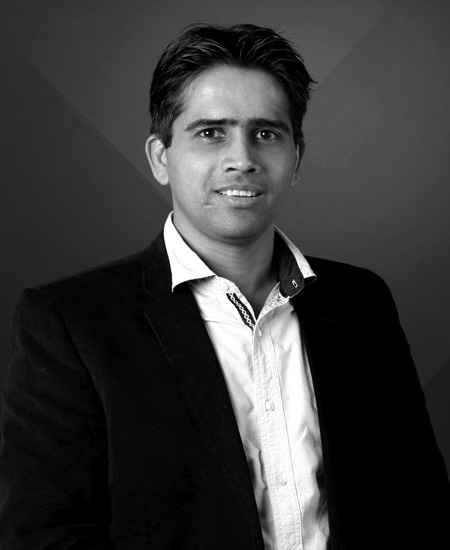 Driven by the essence of a distinct vision, Hitesh instituted WITS Interactive in 2003. A technology evangelist at heart, he is the chief architect for the vision of GoPhygital. He leverages his extensive experience to generate ideas, offers support and articulates practical solutions for clients & partners.
Ninad efficiently shoulders the strategic and operational responsibility while driving the vision of GoPhygital. His previous stints include VP at Robosoft Technologies, COO at Playcaso, EVP at Reliance Games and the Co-Founder at Indiagames. His experience in the interactive media space & gaming over the past 20 years, makes him your perfect ally for innovative Phygital projects!
Press Releases
WITS Interactive Has Been Awarded For Excellence In Emerging Technologies
WITS Interactive is proud to announce that they have been awarded for excellence in Emerging Technologies by the IMC Digital Technology Award 2016 which was held in Mumbai at Walchand Hirachand Hall, IMC Chamber of Commerce & Industry on 12th April 2017 ...
Learn more →
NEWS
Gaming: Rise of Interactive Entertainment
With one of the world's largest youth population, India is poised to become one of the world's leading markets in Gaming Sector ...
Learn more →
Empowering Digital India with Apps
Faster mobile internet, larger cloud storage services, digital payments and verifiable digital identity will soon be a reality, as many Indians begin to embrace a digital lifestyle ...
Learn more →
GET IN TOUCH WITH US
Alone, we are smart. Together, we are brilliant!
We couldn't have put it better ourselves.
If you have an idea which is in sync with what we do, we would love to hear it and explore if we can collaborate to nurture that idea and create something brilliant!
So, if you are
A brand / IP owner looking for the right partner to build a phygital solution for you? Send us an email on iwantto@gophygital.io
If you eat, sleep, breathe tech (and no, you don't need to necessarily be a techie for that); live an alternate life in virtual (or augmented) reality and are looking for a job which acts as an alter ego for you? Write to us at hire-me@gophygital.io to see how you can be a part of GoPhygital.
Or if you just want to reach out to us for a chat, a pat on the back, a kick on the @##! (even a virtual one), drop us a note on info@gophygital.io
Or if you just want to drop in for a cup of coffee, you can meet us at:
WIPL House, 76-D, Govt. Industrial Estate,
Charkop, Kandivli (W), Mumbai - 400067, India
Tel: + 91 22 65983731 / 2/ 3/ 4